Discovery Point Blog
June 14, 2018
Discovery Point Celebrates 30 Years of Childcare Excellence
ATLANTA, June 14, 2018 /PRNewswire/ — Discovery Point, a national leader in the childcare industry, is celebrating its 30th year in business with new expansion plans. After opening its first childcare center in an Atlanta suburb in 1988, Discovery Point has grown to nearly 50 centers, providing year-round childcare to children ages six weeks to 12 years.
With a recently signed multi-center development agreement in China, as well as plans to expand into the Texas market, Discovery Point is gearing up for the next 30 years.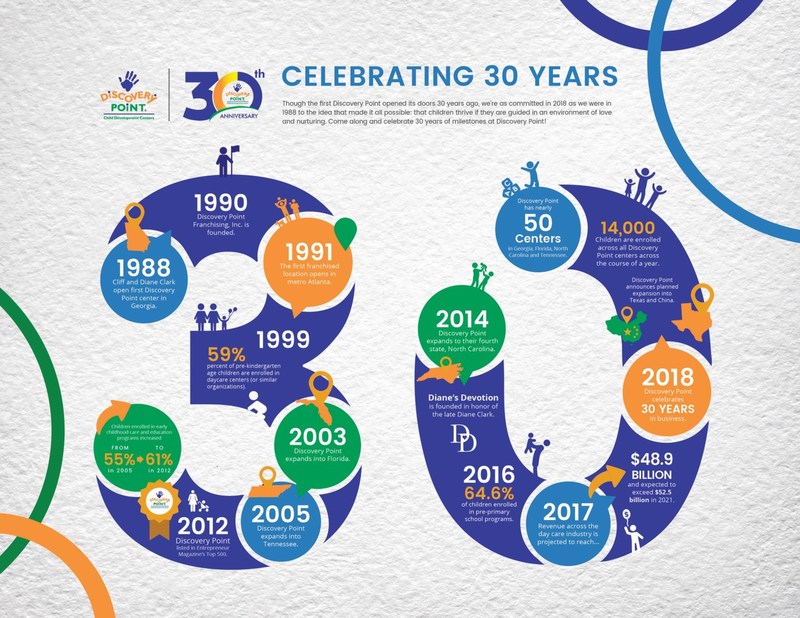 "We are excited to build off of the momentum we have had for the past 30 years and continue to grow and expand our reach in the coming years," says Cliff Clark, CEO and Founder, Discovery Point.
A Legacy 30 Years in the Making
Thirty years ago, Cliff Clark, alongside his wife Diane, saw a need for high-quality childcare in their community near metro Atlanta, Ga.Combining Cliff's business knowledge and Diane's professional education experience, the Clarks understood what a successful childcare center would need and decided to start their own. Now with 47 locations throughout the Southeast, including centers in Florida, Georgia, Tennessee, and North Carolina, Discovery Point has proven to be the excellent childcare franchise they sought to build.
Additionally, Discovery Point has spent the past 30 years providing entrepreneurs with unrivaled franchise support. Through its strategic guidance, community-forward approach and nationally renowned curriculum, combined with its own proprietary language and literature-based curriculum, Discovery Point has been incredibly successful.
"Our business model with a turnkey solution has been extremely successful over the past 30 years," Clark says. "We help our franchisees with site selection, construction, licensing and training, which provides a sense of security for our entrepreneurs who know they are set up for success."